Murat Dedeman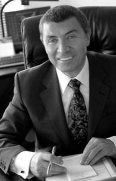 Murat Dedeman took office for many years in different top managements of the Dedeman Community by getting a start in business along with his father Mehmet Kemal Dedeman after his university education.

He conducted the Chairmanship of Dedeman Holding since 1992.The Dedeman Community which continues its activities in the same path of Mehmet Kemal Dedeman has focused on hotel management and mining, has realized new investments creating employment and value in these fields, has brought in lot of new things and has been known in domestic as well as in foreign as a reliable brand.

The Dedeman Community has consolidated its leader position in the Turkish Hotel Management under the Presidency of Murat Dedeman thanks to its installations it brought into service in different geographies like Palandöken, Bodrum, Rize, Erciyes, Diyarbakır, Konya and has contributed to the development of these areas in terms of tourism. Moreover, Dedeman has gained the characteristic of being Turkey's first and only hotel chain which operates under its own brand on the international stage with the hotels put into service in Cyprus, Moldova and Uzbekistan.

The Dedeman Community has also taken important steps in the field of mining and has contributed to the development of the mining sector's standards in Turkey.

Dedeman, which continues its activities with the concept of "production respectful to the environment in modern enterprises", has been one of the biggest mining societies of Turkey in terms of reserves, production and exportation of chrome, zinc and lead. In addition, under the presidency of Murat Dedeman, Dedeman Holding has realized education and health investments in lot of areas of Turkey within social responsibility awareness.

Murat Dedeman, who has got lot of Chairman Memberships in professional association and foundations like TUGEV (Tourism Development and Education Foundation), SKAL(International Association of Travel and Tourism Professionals), TUROB (Touristic Hotels and Investors Association), TUSIAD (Turkish Industrialists' and Businessmen's Association), TABA (Turkish-American Business Association) connected with the sectors Dedeman Holding is showing activity and other memberships, is still continuing its task of Board of Directors of Turkish Tourism Investors Association.

Furthermore, Dedeman is also member of social, sport and cultural association and foundations like Kayseri Province Charity, TED Ankara College Assosiation, TED Istanbul College Foundation, Turkish Mining Development Foundation, Turkish Police Office besides being Umut Foundation Founding Trustee.